Did anyone happen to catch the camera shots of the Iowa State student section on Saturday? You couldn't help but feel sorry for the guys at Iowa State that must be forced to add 5 points on the obligatory 10-point female looks scale to every single co-ed in Ames. While it could have been better at UNL (visit any SEC school on a Saturday), it could have been much, much worse. Next up is Manhattan, Kansas, which doesn't get much better. I've experienced Aggieville on 3 separate Husker road games and I'm yet to come away with anything but a weekend cock-block record from the locals. Unless half the K-State campus is tuned into the Bravo channel, you'll have better odds of seeing Sammy Vegas sober in downtown Omaha than you will of finding a guy-girl ratio that is lower than 3-to-1 in Aggieville.
So with the Huskers in the midst of 3 road trips in 4 weeks, it is time to look at the more social aspects of collegiate football in this week's Top 10 as we visit the Top 10 places to tailgate in college football. Please, no feedback that Iowa City should be in the Top 10 because you hooked up once there when you were 19. The criteria here is overall pre-game experience. By the way, note to Dan Fouts and Tim Brandt: You two jerk-offs better get it together or you'll be seeing your names atop the Top 10 Worst Announcers in College Football next week.
10. Clemson University:
The laid-back South Carolina charm might not be the only thing that's contagious at Clemson, but the talent at Clemson is top-notch in the ACC and the students fill up Death Valley for home games. In a city of just over 10,000, the tailgates are just as important as the game itself.
9. Notre Dame:
As much as it pains me to put the Irish on the list, I have to give credit where credit is due. While the Irish may not know the value of a Nebraska home football ticket, they definitely know how to arrive at the stadium hours before kickoff. The quantity of tailgates, not the quantity of girls, in South Bend makes Notre Dame Top 10 worthy.
8. University of Wisconsin:
You don't become a fixture on the Princeton Review's Top Party Schools for nothing. The crazy kids in Madison even garnered the distinction of
#1 Beer School in 2006 (registration required)
. With that kind of pedigree as well as the cheese and sausage processing nearby, Madison is a fat-assess' tailgating heaven. They even have the girls to match! Thank former Husker Barry Alvarez for your inclusion on this list.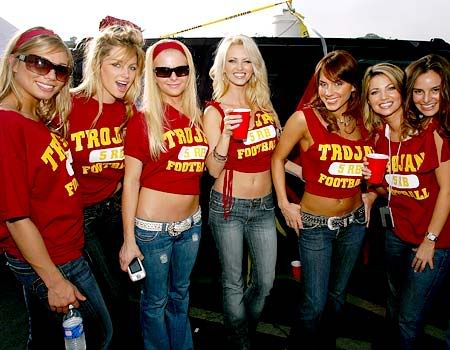 7. University of Southern California:
If you were at the game last month, then you know how much planning goes into the tailgate parties at USC. If you saw the pictures of Dr. D on the bus, then you know how much alcohol is at the tailgates. Even though you can smell the Sex Panther from a mile away and you're more likely to find a sellout outside of the stadium as opposed to inside the stadium, only Brick Tamlin would leave the unbelievable weather and scenery in Southern California off this list.
6. Florida State University:
Jeffie Husker will handle this one. Two words: Jenn Sterger. Two more words: OVER EXPOSED (come on, someone had to say it). Overall, Tallahassee is a tailgater's wet dream. From Friday nights on Tennessee Street to all-day drunkfests at Indian Village in the shadows of the Doak. A weekend here reminds you of all that is right in the world. My welcome to FSU moment? First home game calling everyone I knew from the stadium to tell them that the two girls in front of me were both wearing leather pants...to a football game...in August...in Tallahassee.
5. University of Mississippi:
The talent at Ole Miss is one of the best kept secrets in the SEC. A reasonably looking guy with an IQ above 50 should be able to score more than BBQ in Oxford. Add in the tailgating tradition called 'Groving', where the tailgating begins at 5 a.m. around the Grove, and you have a Top 10 experience and a two-day hangover.
4. University of Tennessee-Knoxville:
Head down to Volunteer Landing on the Tennessee River for the opportunity to tailgate on land or sea with great BBQ and 100,000 fans. Just make sure you consult Dante Culpepper, Fred Smoot, and Bryant McKinnie for all the inside tips to make your boat party one to remember.
3. World's Largest Outdoor Cocktail Party:
These guys
have been going to the same party for what, 13 years now? While the number 3 location on the list isn't a college campus, it is hands-down one of the best tailgates in America. The is more beer consumed in the hours before kickoff of the annual Georgia-Florida game than at most university parking lots all year. Even your weekly designated driver will get hammered before this game. Georgia even has its Fall Break around this game just so students don't have to drive home. Did I mention the girls from Georgia and Florida?
2.
University of Texas-Austin:
UT has everything - Tradition, food, music, a great bar scene, and more 9's than a Tokyo phonebook. The government parking lots around campus are filled with parties, scotch, and very few leather-bound books. After the game, it's off to Sixth Street, the live-music capital of the World, for a blackout that would make Nick Nolte proud.
1. Louisiana State University:
There's a reason that Chris Fowler called LSU his favorite college game day experience. Fans arrive at Tiger Stadium in Death Valley two days before the game to begin tailgating and skipping class for a 48-hour bender. Regular night games give fans plenty of time to prime before the game and the stadium of 92,000 is the loudest in college football. If you haven't had enough by Sunday, hit Bourbon Street, which is a short 1-hour drive and witness Dr. D clear out Cat's Meow with his classic karaoke.