With the season more than half over, I decided it was time to take another look at explosive plays. I had previously examined this concept
just prior to the USC game
. As a reminder, explosive plays are defined as runs of 12 yards or more and passes of 16 yards or more. Like other variables, explosive plays have been found to be a key factor in a team's success.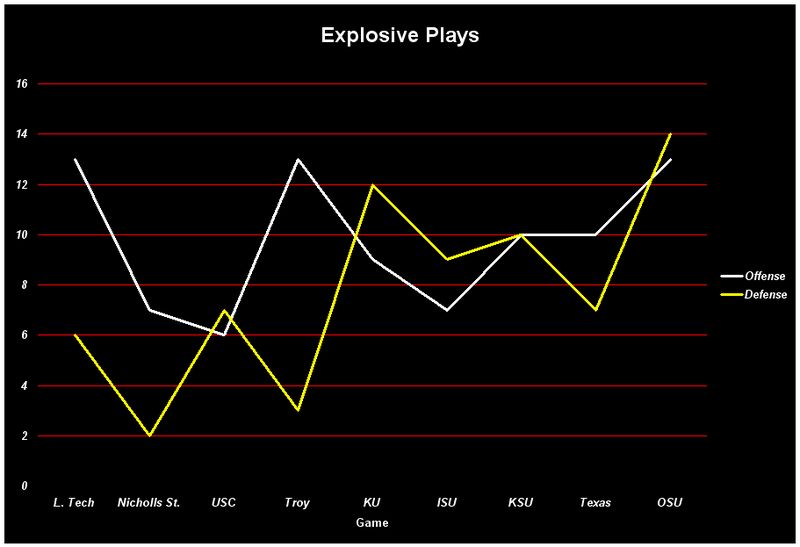 Explosive Plays (Click to Enlarge)
The graph illustrates the interaction between the explosive plays produced by Nebraska's offense and those given up by its defense in 2006. From an offensive standpoint you have to be pleased with what the graph shows. The Nebraska "O" has produced 88 explosive plays on the season, or just under 10 per game. That is a vast improvement over the numbers put up just a year ago. In 2005, the Huskers offense had only 61 explosive plays or slightly over 5 per contest. I think most Husker fans would agree that the offense is vastly improved over last year. Much of this improvement can be traced to an enhanced running game and the development of a big play receiver in Maurice Purify.
It is important to note, however, that explosive plays are an interactive measurable because a team's effectiveness in this area can be diminished if their defense is giving up explosives at the same rate that the offense is gaining them. Here is where the complaints of many Husker fans lie. For instance, take a good look at the graph and guess which two defensive performances have raised the ire of Husker Nation. It is clear that defensive breakdowns against Kansas and Oklahoma State led to huge offensive performances by these Big 12 foes (thankfully we managed to split thrse contests). Most perplexing, however, are the performances versus Top 10 opponents USC and Texas. The Huskers did a tremendous job of limiting these high-powered offenses and actually produced more explosives than they gave up versus the Longhorns. Overall, however, the Nebraska defense has already given up 70 explosive plays on the year. By comparison the Blackshirts gave up just 79 explosive plays all of 2005. The reasons for the defensive drop off are numerous, but likely begin with an inexperienced secondary (with 3 new starters) and an over-hyped, but under-productive front four.
Thus far Nebraska has managed to win two games when its defense gives up more explosive plays than its offense produces. A year ago the Huskers won five such games. In my previous analysis I noted that:
"They were able to get away with this for several reasons. First, the Huskers led the nation in sacks with 50 and also had 140 tackles for loss. In addition, the 2005 defense was able to clamp down in the Red Zone, and prevent teams from scoring from this area of the field. Lastly, they benefited from strong special teams play. Nebraska blocked several field goals, including two potential game winners versus Pitt. Moreover, the Huskers relied on punter Sam Koch to flip the field and bury opponents in negative field position situations."
The Blackshirts are way behind the 2005 pace in both sacks and tackles for loss. In addition, the special teams have become less than special. As a result, I continue to have concerns about our defense and its inclination to give up explosive plays. Even with an improved offense, we still don't protect the QB well enough to get involved in a shootout. This is especially worrisome given the weapons that Missouri brings to Lincoln. If we thought the spread attack of Oklahoma State created match up problems, just wait until the Chase Daniel-led Tiger attack takes the field on Saturday.