Youth Movement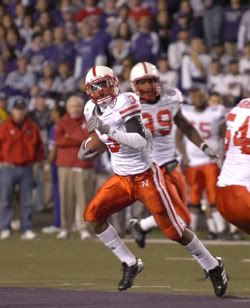 There seems to be a push by many in the Husker fanbase to play more of the young players on the roster. Specifically, folks seem to be ready to see more of Ricky Thenarse and Major Culbert in the secondary. I admit that I've had these thoughts as well, but I've wondered WHEN we should play them? Certainly this week isn't the right time to throw them into the fire, and really the rest of the schedule doesn't seem to be favorable either (unless God forbid, we lose out).
In line with this, I recently ran across this
discussion in the Miami Herald
, which highlights the 17 true freshman that have played for Florida State this season.
General Robert Neyland, the former coach at Tennessee used to subscribe to the maxim that for "Every sophomore you start, you're going to lose a game." That was before the days of freshman eligibility, but perhaps the same could be said of freshman today.
The Miami Herald piece quotes an Atlanta Journal Constitution study that found that 21 teams in the Associated Press Top 25 do not start a player who was in high school a year ago. In addition, the newspaper reviewed the starting lineups of all 65 teams that belong to the six leagues who automatically send their champions to the BCS bowls and found that:
"The 37 teams that don't start a freshman entered the weekend with an average record of 5-2. The 28 teams that start at least one are barely above .500. (Games against non-power leagues account for the extra wins.)"
As Bobby Bowden states:
"People are winning with freshmen, but they're also getting beat with freshmen. There is something to that."
So perhaps our staff isn't "stubborn", "playing favorites", or "poor at getting young players ready to play". Maybe they are just attending to old adages that still ring true today.
Restoration Projects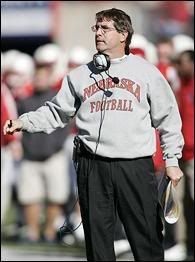 ESPN's Bill Curry examines a group of
coaches attempting to revive storied programs
, including our own Bill Callahan. Also in the group are Karl Dorrell of UCLA, Tyrone Willingham of Washington and Mike Shula of Alabama. Of this group, Curry says:
"Each is seeking to revive a storied tradition while dealing with distractions his predecessors never faced. One reason for the increased degree of difficulty in this era -- and indeed one of the major distractions -- is that every loss in the world of traditional powers is considered catastrophic."
Certainly Curry makes a good point and the article is a worthwhile read. However, you can use whatever adjective you want to describe the OSU loss, but at the very least it was "unexpected".
Falling Stars
Monday Callahan announced that TE
Justin Tomerlin had been dismissed from the team
for a violation of team policies and regulations. Tomerlin was a 4-star recruit, who never found a way to contribute for the Huskers. He becomes the 8th member of the 2005 recruiting class (which was ranked #5 nationally) to leave the team for various reasons. While some may argue that this is an exceptionally high attrition rate, my gut tells me this is about par for the course as far as recruiting classes go.
2005 Recruiting Class
Bryan Wilson – Playing in Nickel/Dime packages
Barry Turner – Back up DE
Justin Tomerlin
– Dismissed Oct. 2006
Frantz Hardy – Starting WR
Tyrell Spain – Back up DB, ST
Ndamukong Suh – Back up DT
Chris Brooks – Reserve WR (Redshirting in '06?)
Brock Pasteur
- Transferred
Jordan Picou – Back up OL
Ola Dagunduro – Starting DT
Steve Octavien – Back up LB
Zac Taylor – Starting QB
Cody Glenn – Back up IB
Barry Cryer - Starting DT
Jeff Souder
– Transferred to UNO
Dontrell Moore
– Academic casualty
Robert Rands
– Switched to Track
Marlon Lucky – Back up IB
Zach Potter – Back up DE
Leon Jackson
– Left team Fall '06
Jordan Congdon – Starting K
Zack Bowman - Starting CB (out with ACL)
Jacob Hickman – Back up OL
Rodney Picou
– Academic casualty
Phillip Dillard – Back up LB (out with ACL)
David Harvey – Back up DE?
Craig Roark – Back up DT
Harrison Beck
– Transferred to NCST
Nick Covey – Back up LB (out with ACL?)