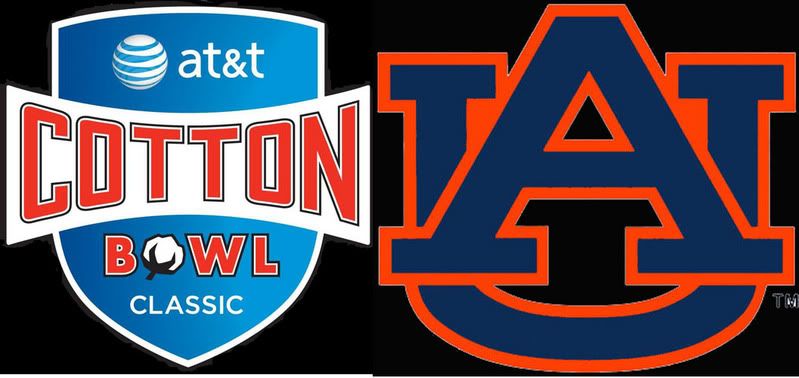 Location:
Auburn, AL
Enrollment:
23,000
Conference:
SEC
Stadium:
Jordan-Hare Stadium (Capacity: 87,451)
First Year of Football:
1891
All Time Record:
648-379-47 (.625)
Head Coach: Tommy Tuberville
6th year as head coach at Auburn: Career record at Auburn 51-24
.
Last Season:
Despite losing Jason Campbell, Carnell Williams and Ronnie Brown, the Tigers barely missed a beat in 2005. They finished 9-3 in 2005 after losing in the Capital One Bowl 24-10 to Wisconsin.
This Season:
Auburn comes into the Cotton Bowl with a 10-2 record. The Tigers started the season 5-0 before losing at home to Arkansas 27-10. Auburn then reeled off 4 more wins, including a 27-17 victory over Florida. The Tigers finished the season with another home loss to Georgia and a win over archrival Alabama.
On Offense:
Although it is not the most productive unit in the country, Auburn's offense is one of the most balanced attacks. The Tigers rank 68th in the nation in total offense while producing 155 yards rushing/game and 178 yards passing/game. Auburn's quarterback is the left-handed Brandon Cox. Cox has completed 153/250 of his passes for 2087 yards 13 TDs and 9 INTs. Cox is capable of being extremely accurate when given time, but often breaks down under pressure. He has also been forced to battle through nagging injuries, but should be healthy for the bowl game. Despite his own injury issues, the Tigers' rushing attack is led by senior Kenny Irons. Irons is not the most physical runner, but is also difficult to bring down one-on-one. He excels in the open field and makes the most of running lanes. Irons has rushed for 861 yards and 4 TDs in 2006. Irons' backup during the season has been sophomore Brad Lester who has produced 523 yards and 9 TDs. Lester will not be available for the Cotton Bowl, however, after being suspended for a violation of team rules. In Lester's place expect to see true freshman Ben Tate. Tate who is Maryland's all-time prep leader in rushing, has 369 yards rushing this year and averages a robust 7.4 yards/carry.
Auburn's receiving corps entered the season as a talented, but inexperienced group. The Tiger receivers are deep as a unit and also possess a great deal of speed. The Tiger's leading receiver is senior Courtney Taylor. Taylor is a big, strong receiver who is difficult to bring down in the open field. He has 48 catches for 634 yards and 2 TDs on the year. Behind Taylor is the athletic Rodgeriqus Smith. Smith has caught 26 balls for 452 yards and 4 TDs. Two other targets to look for are Prechae Rodriguez and TE Gabe McKenzie. Rodriguez is 6-4 with great deep speed and should develop into a consistent deep threat for Auburn. Tight end Tommy Trott is also a capable receiver who has 10 catches and 2 TDs in 2006. In addition, senior TE Cole Bennett may return from a broken ankle, which forced him to miss most of the season.
The Auburn offensive line came into 2006 with the need to develop depth behind a fairly solid starting unit. The Tigers' biggest man up front is 6-8, 320 pound LT King Dunlap. Dunlap was known as a talented run blocker, who is continuing to improve at pass protection. The RT is senior Jonathan Palmer. Palmer is the most experienced member of the Tiger O-line. The guards are Tim Duckworth and Ben Grubbs. Grubbs is a good athlete and a dominating run blocker, while Duckworth is an all-conference performer. The center spot is manned by Joe Cope, a former walk-on who more than holds his own in the middle.
On Defense:
The Tigers rank seventh in the nation in scoring defense (13.9 points) and 25th in total defense (297.5 yards). For the past few years they have relied upon the play of a group of undersized, but quick linebackers and 2006 has been no different. Auburn's best defensive player is SLB Will Herring. Herring moved from FS to LB this season to take advantage of his speed and experience. Herring leads the team with 65 tackles, and is second on the Tigers with 7.5 TFL. Karibi Dede fills the MLB spot for Auburn. He is smallish at 6-0, 216, but is generally able to hold his own against the run. He has 56 tackles and 1 sack on the year. The WLB spot is held down by sophomore Merrill Johnson. He is another LB known for his speed and has shown an ability to get in the backfield. Johnson has 32 tackles and 3 QBH in 2006.
Headed into the season, Auburn thought it might have the SEC's best secondary. David Irons and Jonathan Wilhite, who are among the best hitting DBs in the country, man the CB spots. Irons, who is the brother of RB Kenny Irons, has 45 tackles, 2 INT and 6 PBU on the year. Wilhite is steady, but has been known to take his share of risks. He has 24 tackles and 1 forced fumble this season. The safeties are Eric Brock and Aairon Savage. Savage has the size and speed of a corner, but is third on the team in tackles with 48 and also has 1 INT on the year. Brock is the team's biggest DB at 6-1 213 pounds. He is tied for the team lead in INTs with two.
The Auburn front four is young and starts just one senior across the line. They are led by junior DE Quintin Groves. Groves finally became more consistent this season at getting into the backfield. He leads the team with 12 TFL and 9.5 sacks. The other DE spot is filled by senior Marquies Gunn. Gunn is physical and quick and has 7 TFL and 3 sacks. The DTs are Josh Thompson and Sen'Derrick Marks. Thompson the NG, is extremely powerful. He has 3.5 TFL, 1 sack and 2 QB hurries. Marks a RFr, is still raw, but has 8.5 TFL and 3.5 QBH.
Special Teams:
The Tigers have one of the country's best kicker and punter combinations. The kicker is Jon Vaughn who rebounded from a poor 2005 season to hit 19/23 FG attempts. Kody Bliss is the punter and averages 46.1 yards/punt, including placing 12 attempts inside the 20 yard line. In the return game, Tristian Davis is a dangerous kickoff returner who averages 26.4 yards/return.
Random Notes

Series History:
This marks the fourth meeting between the two teams. Nebraska leads the all-time series 3-0.
I Can't Believe I Looked It Up Either:
Auburn is 5-5 all-time against teams from the Big 12. The Tigers record is 1-3 versus Big 12 teams in bowl games. Their lone win was a 24-3 Gator Bowl victory over Colorado in 1972.
I Can't Believe I Looked It Up Either – Part II:
Auburn's first bowl game was the 1937 Bacardi Bowl, in which they tied Villanova 7-7. The Bacardi Bowl was played six times in Havana, Cuba. The 1937 game was the only one pitting two American CFB teams against one another. The previous games matched an American team with a team from Cuba. The Cuban teams went 1-4 against US college teams.
Six Degrees of Beano Cook:
Beano is feeling optimistic. Nebraska beat Missouri. Missouri beat Ole Miss. Ole Miss beat Vanderbilt. Vanderbilt beat Georgia. Georgia…beat Auburn.