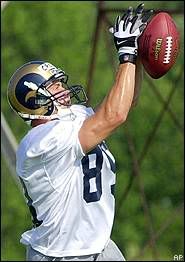 Naturally, when I presented the Defensive All-Bust team a week ago, I found myself pondering which offensive players would share in the their not-so-bright limelight. What I assembled is a group that left their hearts, their triumphs and in some cases their dignity on the hallowed ground of Memorial Stadium. So, if you came here looking for Husker dominance at the next level, you're not going to find it. For that you'd need to head to Canton and look for Guy Chamberlain (H.O.F. Class of 1965), who excelled at Nebraska in the 1920s and went on to four NFL championships as a player/coach who was known as a talented two-way player. But if it is NFL obscurity from some of your most beloved Huskers that you seek, then you've found it. Without further adieu….
Offensive All-Bust TeamQB: Jerry Tagge, Green Bay Packers, Pick #11, Round 1
In 1971, Jerry Tagge threw for a staggering 2,019 yards and was named an All-American. However, you might remember Tagge most for bringing Nebraska the 1970 and 1971 National Championships. Tagge possessed legendary grittiness which was best exemplified in the Game of the Century where he led NU to victory with his jersey in tatters. Tagge was a first round draft pick but enjoyed just a brief three year career with the Packers. Surprisingly, his three career touchdowns and 17 interceptions have yet to garner him a Packer Hall of Fame nomination.
RB: Lawrence Phillips, St. Louis Rams, Pick#6, Round 1
Phillips breakout game came against Florida State in the 1994 Orange Bowl where, as a true freshman, he ran for 64 yards including a 12 yard touchdown run in the 4th quarter. During his sophomore campaign, he accumulated 1,722 yards playing against eight and nine-man fronts the entire year. In the 1995 Orange Bowl (end of 1994 championship season), Phillips totaled 96 yards against a Miami defense that boasted players such as Warren Sapp and Ray Lewis. To begin his junior year, the Heisman front runner was averaging over 10 yards a carry, including 22 carries, 206 yards, and 4 touchdowns against Michigan State. After Phillips found his girlfriend, Kate McEwan, in the apartment of Scott Frost, unspeakable violence ensued and his career was never the same. Phillips played in St. Louis for a year and a half before being cut (causing Dick Vermeil to cry at the press conference), played in Miami for two games, and finished a brief year in San Francisco (after stints in Canada and Europe) where he not only ended his career, but also that of Steve Young after missing a block on MNF. His career ended with 1,453 yards, 14 touchdowns and innumerable felony counts. Recently Phillips returned to the gridiron. Unfortunately it was while driving a stolen car through a group of teenagers' pick-up football game.
RB: Calvin Jones, Los Angeles Raiders, Pick #80, Round 3
Much like in his Husker playing days, Jones is a standout on this list. The Central High School star, best known for being part of the "We-Backs," had an excellent combination of speed and power. In fact, in the 1991 Kansas game Jones ran for a school record 294 yards and 6 touchdowns. In 1992, while splitting time with Derek Brown, Jones ranked ninth in the nation in rushing touchdowns. But let's see if you can comprehend just how unproductive Jones' 3 year NFL career was: 112 total yards, and 0 touchdowns. Not a difficult decision on this one.
WR: Johnny Rodgers, San Diego Chargers, Pick #25, Round 1
Rodgers could have been the most electrifying player in Nebraska Football history. He was the 1972 Heisman Trophy winner, a two-time All-American, and played on two National Championship teams. Rodgers will forever be known in college football folklore for his punt return against OU in the Game of the Century in 1971. Rodgers went to play immediately in the CFL because he "always dreamed of having $100,00, and San Diego didn't offer (him) anything close to that." He was a standout CFL player with Montreal, but returned to the NFL to achieve American glory. Well, in two short-lived seasons in San Diego, he suffered injuries to his hamstrings and knees, eventually sending him into an early retirement. FYI: Rodgers pulled out every stop to get enrolled at and play at USC, but the admissions board refused to give him slack solely for being a prized recruit.
WR: Eric Crouch, St. Louis Rams, Pick #95, Round 3
Crouch's college and pro careers were both almost over before they'd even started. In 1998, Crouch briefly left the Huskers after failing to be named the starting QB for the season opener. His college career rebounded, however, with a (controversial) Heisman Trophy in 2001 and a (controversial) national championship appearance the same year. Similarly, Crouch left training camp after the Rams used a third round draft pick on him in the hopes of converting him into a wide receiver. At the time, he yearned to be a quarterback and believed himself capable of outplaying both Kurt Warner and Marc Bulger. When Mike Martz failed to drive to Omaha to change his mind, Crouch's first NFL attempt was over. Crouch then saw opportunity in Green Bay, but due to an outstanding training camp by an relative unknown named Favre, he was once again the odd man out and quit. In 2005, the Chiefs sent him to NFL Europe as a safety, and for reasons not yet known, he once again quit. It is safe to say, the most publicity and notoriety he has received in his professional career was when he stood onstage at Matt Leinart's Heisman Trophy presentation in a mock-turtleneck and baggy pants. Upon hearing that the Downtown Athletic Club has now imposed a dress code, Crouch promptly informed them that he quit.
TE: Johnnie Mitchell, New York Jets, Pick#15, Round 1
Mitchell played just two seasons at Nebraska, but was a fan favorite known for his athletic catches and vibrant, confident attitude. In 1991 Mitchell was named to the UPI All-America Team, and was also an All Big-8 selection in 1990 and 1991. In the Citrus Bowl against Georgia Tech, he had 138 yards and a TD. With the New York Jets, Mitchell was considered at first to be one of the top TEs in the NFL, but over 5 years, he amassed just 16 touchdowns and slightly better than 2,000 yards. He has tried multiple comebacks, including a 2002 tryout with New Orleans, a 2003 tryout with Jacksonville and more recently, a 2004 stint with the Toronto Argonauts of the CFL.
OL: Mark Traynowicz, Buffalo Bills, Pick #29, Round 2
Mark was an imposing force at nearly 280 lbs and was one of the anchors on the best offense in college football history that included Mike Rozier, Turner Gill, and Irving Fryar. A year later in 1984, his feats garnered him First-Team All-America honors. Drafted as the first pick of the second round in 1985, Mark appeared in 14 games his rookie season. However, the USFL soon folded and Kent Hull became the starter at center. Mark would never start another game in the NFL again.
OL: Mark Behning, Pittsburgh Steelers, Pick #47, Round 2
Playing alongside Traynowicz for his entire collegiate career, Behning was also an integral piece to the success of our program in the early 1980s. In his senior year, Behning earned All-Big Eight and Academic All-Big Eight honors and helped lead Nebraska to a Big Eight championship and a Sugar Bowl win over LSU. However, Behning's NFL career was less than admirable, and lasted just one year. Mark is now a high school coach in Denton, TX and it is interesting to note that he was drafted ahead of Herschel Walker (as the Cowboys secured his USFL rights), Mark Bavaro, Andre Reed, Kevin Greene, and Jack Del Rio.
OL: Toniu Fonoti, San Diego Chargers, Pick #39, Round 2
Literally clearing the way for Crouch's 2001 Heisman campaign and his team's championship campaign, Fonoti earned First-Team All-America honors and left school early for the NFL draft. Listed at 6'4 and 340 lbs, Fonoti was named to the All-Rookie team in 2002 and named All-Pro by sportsillustrated.com in 2004 (he sat out the 2003 season). Due to weight related injury and attitude issues, the Chargers were more fed up than Fonoti's stomach and sent the reported 400 pounder to Minnesota, where he played in three games last year. As quickly as he can clean out the Golden Corral, he was sent to Tampa Bay where he currently sits second on the depth chart and continues to be plagued by injuries.
OL: Barney Cotton, Cincinnati Bengals, Pick #59, Round 3
A three sport athlete in high school, Barney Cotton was an imposing force with his 6-5 stature. After arriving at Nebraska, Cotton played special teams and offensive line as a sophomore, defensive tackle as a junior, and offensive guard his senior year which earned him a trip to the East-West All-Star game. After entering the NFL with the Bengals, Cotton was traded a year later to St. Louis where his career ended two years later with multiple knee injuries. After being saddled with the unenviable task of offensive coordinator Solich's final staff, Cotton has since experienced success in the same role at Iowa State. In contrast with his mentor Solich, it appears that the harsh ending to the 2003 season has yet to lead Cotton into a life of public intoxication and (alleged) pill popping.
OL: Rob Zatechka, New York Giants, Pick #128, Round 4
While playing alongside the likes of Brendan Stai and Zach Wiegert, Zatechka earned seemingly every academic honor given to college athletes. Not only did he graduate with a 4.0, but he also earned Academic All-America honors and was an outstanding collegiate lineman. After arriving in New York, he was prematurely inserted into starting lineup in the 1995 season, giving his coaches too early of a look at what they had acquired. The highlight of a short-lived three year career was a kick return for five yards. Zatechka has since returned to medical school and is active in medical education in Omaha. Today, however, he is probably most recognizable as the television personality with the dubious task of assisting Travis Justice in his aimless quest for credibility.
Honorable Mention:
IM Hipp, Lloyd Voss, Derek Brown, Rick Bonness, Tom Novak.