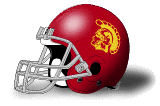 Location:
Los Angeles, California
Enrollment:
33,000
Conference:
Pac-10
Stadium:
L.A. Coliseum (Capacity: 92,000)
First Year of Football:
1888
All Time Record:
732-298-54
Head Coach: Pete Carroll
6th year as head coach at USC: Career record 54-10
.
· Following the Arkansas game, Carroll had this to say about giving up defensive coordinator duties to Nick Holt.
"It reminded me of the NFL. I had a little more freedom to run around and do stuff because you're not on the call for every play and the next adjustment. I had a lot of fun."
Last Season: USC was touted as the greatest team of all-time, before losing their national title bid in one of the greatest games ever in the Rose Bowl.

This Season: USC will be trying to match the 580 yard, 49 point-per-game output of 2005. In addition, they must replace the likes of Matt Leinart, LenDale White, Winston Justicee, Dominque Byrd, Taitusi Lutui, Darnell Bing, and Reggie Bush. The Trojans struggled early in their opener leading just 16-7 at the half. They came out smoking, however, in the second half on their way to dismantling Arkansas 50-14 in Fayetteville.

On Offense: At quarterback John David Booty has waited three years for his chance to run the Trojans' offense. His status for 2006 was somewhat questionable after off-season back surgery. But Booty left USC fans feeling optimistic after going 24-35 and 261 yards and making few mistakes in the opener. At running back the Trojans have an inexperienced but talented stable. True freshman C.J. Gable started the opener and finished with 51 yards rushing and a touchdown. Two other freshmen Emmanuel Moody and Allen Bradford also scored against Arkansas. The X-factor at running back for USC might be Chauncey Washington. Washington sat out the past two seasons because of academic issues and was slowed during fall camp by a hamstring injury. Against Arkansas he rushed for 55 yards on 8 carries despite not being 100%. At wide receiver the Trojans look like a match up nightmare as they boast a bevy of future NFL talents. Dwayne Jarrett might be the best receiver in the country and had 1274 yards and 16 TDs a year ago. Jarrett is joined by senior Steve Smith, who is probably the fastest of the USC receivers. Smith had 5 catches for 67 yards against the Hogs. Future stars Patrick Turner, Chris McFoy, Whitney Lewis, and Vidal Hazelton give the Trojans incredible WR depth. Even scarier is the development of TE Fred Davis, who will test the middle of the Husker defense. The USC offensive line is anchored by OT Sam Baker who is an incredible pass protector and also a preseason All-American. The emotional leader of the OL is senior center Ryan Kalil. Kalil bulked up in the off-season and will contend for conference and national honors.

On Defense: The 2006 USC defense looks to be a microcosm of the team as a whole. They are inexperienced, but insanely talented. The linebacking corps is arguably the best in the country and has loads of depth. The starters are Dallas Sartz, Keith Rivers and Oscar Lua. Sartz is a converted safety and is returning from a shoulder injury that kept him out in 2005. Rivers is an amazing talent who uses his speed to wreck havoc on opposing offenses. Lua led the team in tackles in 2005, but is struggling to hold off sophomore Rey Maualuga for the starting job. Keep an eye on Brian Cushing who has been splitting time with Sartz and will also see the field when USC lines up in their 3-4 alignment. The defensive line is led by junior DE Lawrence Jackson who could be another All-American in the making. Joining Jackson along the front four are DE Kyle Moore, DT Chris Barrett and NT Sedrik Ellis. USC lost its only returning starter in the secondary when safety Josh Pinkard tore his ACL against Arkansas. The loss of Pinkard is analogous to Nebraska's loss of Zackary Bowman in terms of talent and leadership. The Trojans turn to freshman Taylor Mays to fill Pinkard's void. Mays is a highly touted talent who was heavily recruited by Nebraska. At strong safety sophomore Kevin Ellison is a big hitter who has shown a nose for the ball. Junior Tarrell Thomas holds down one CB spot and is a physical defender who goes 6-1, 195 lbs. Kevin Thomas started the opener at the other CB position against Arkansas. Thomas, however, has been dealing with an ankle injury and sophomore Cary Harris may see increased snaps against Nebraska.

Special Teams: Kicker Mario Danelo was almost automatic in 2005 hitting 11 of 12 field goal attempts. The punter is Greg Woidneck who placed three punts inside the 20 against Arkansas.

Random Notes

Series History: This is the third meeting between Nebraska and USC. Nebraska is 0-1-1 in games versus the Trojans. Previously the Huskers played the Trojans in 1969 and 1970. USC won the 1969 contest 31-21 in Lincoln. In 1970, the 9th ranked Huskers traveled to LA and tied the #3 Trojans 21-21 before going on to win our first National Championship.

I Can't Believe I Looked It Up Either: The Huskers have not faced a Pac-10 quarterback with three names since Billy Joe Hobert in 1991 and 1992. In his best effort in 1991, Hobert led Washington to 618 yards of total offense and a 36-21 come from behind road win over the Big Red.

There's No Crying in Football: USC freshman running back Stafon Johnson leads the Pac-10 in uncontrollable sobbing after breaking down on the sideline near the end of the Arkansas game. Johnson was reportedly upset about his lack of playing time, stating: "Everyone wants to compete and get out there and show what they can do". Johnson's blubbering led to a demotion to the scout team.

You Wouldn't Like Him When He's Angry: Lou Ferrigno Jr. is a backup linebacker for USC. As you probably know his father played the Incredible Hulk on the 1970s television series. Incidentally, did you ever notice how durable the Hulk's pants must have been? I mean during each metamorphosis his shirt was torn completely off, but his pants just turned into shorts. Just something to think about.

Six Degrees of Beano Cook: With USC's lone 2005 loss coming to undefeated Texas, Beano is unable to work his victory chain magic. On a side note, I have Beano in the celebrity death pool this year, so I've got that going for me.