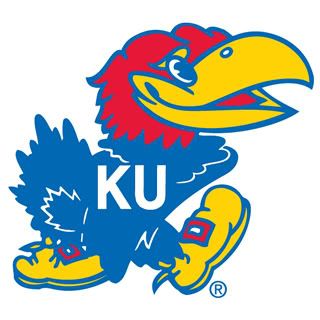 Location:
Lawrence, Kansas
Enrollment:
29,272
Conference:
Big 12
Stadium:
Memorial Stadium (Capacity: 50,071)
First Year of Football:
1890
All Time Record:
539-532-58
Head Coach:Mark Mangino
Fifth year as head coach at Kansas: Career record 22-30
· Mangino spent 8 seasons as an assistant at Kansas State. He served as recruiting coordinator, running game coordinator and, in 1998, was appointed assistant head coach. The season prior to his arrival in Manhattan, the Wildcats posted a 5-6 record. Over the next eight seasons, K-State went 71-23-1 with six consecutive nine-plus win seasons and played in six straight bowl games.
· In Mangino's four seasons as coach of Kansas, the Jayhawks have made two bowl appearances.
· Mangino has seen two of his signees named Big 12 Offensive Newcomer of the Year during his short tenure at KU - quarterback Bill Whittemore in 2002 and center Joe Vaughn in 2003.
Team Overview

Last Season:
The Jayhawks finished the 2005 season with a 7-5 record. In addition, they defeated the University of Houston in the Fort Worth Bowl 42-13. The 2005 season also saw Kansas post a perfect 6-0 record at home - the team's first undefeated/untied season at home since 1951.
This Season:
Kansas comes into the game with a 3-1 record. Their lone loss was an overtime thriller to Toledo.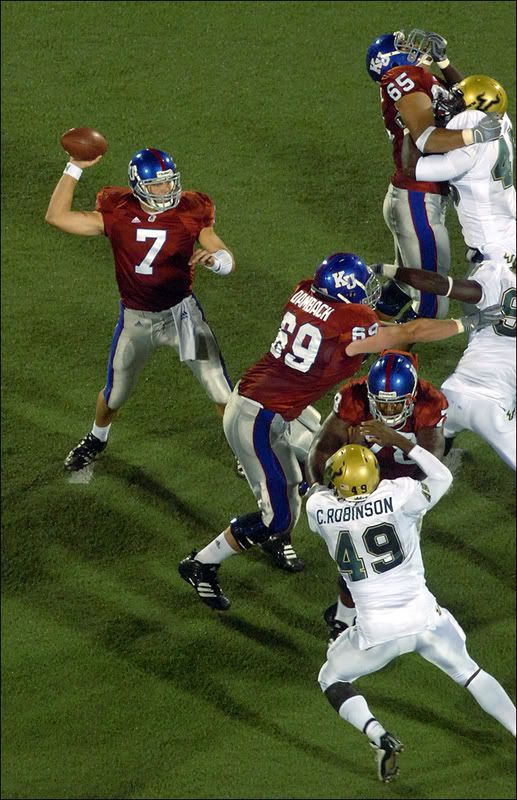 On Offense:
Offensively the Jayhawks are averaging 363 yards per game in 2006. Kansas may be in the midst of a minor quarterback controversy. Redshirt freshman Kerry Meier started the first three games before injuring his arm against Toledo. Against South Florida senior Adam Barmann got the nod and completed 25 of 35 throws for 273 yards and no interceptions. It is unclear whether Meier will be able to go against the Huskers, but look to perhaps see both quarterbacks on Saturday. At RB KU is led by Jon Cornish. The 205 pound senior is averaging over 100 yards per game this season. Cornish has a nice burst when holes are there and also has the hands to be successful catching passes out of the backfield. Receiver looked to be a weakness going to into 2005, but so far players have stepped up to carry the load. The Jayhawks rely mainly on Brian Murph and Marcus Henry. In addition, sophomore Dexton Fields looks like a star in the making and has two TD catches this year. The KU offensive line might be the best of Mangino's tenure. Senior guard Bob Whitaker anchors the line and is also the biggest of KU's linemen. Sophomore tackle Anthony Collins is another of the team's rising stars.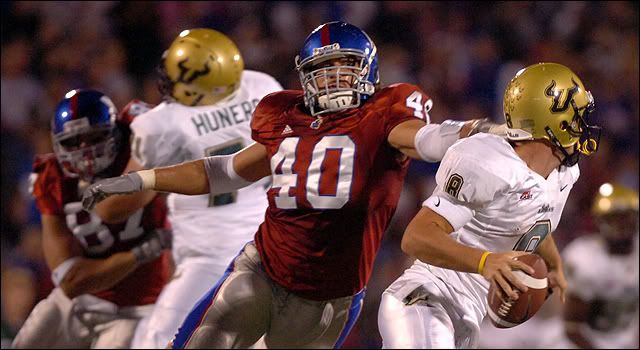 On Defense:
In 2005, the Jayhawks' defense was central to the team's success. This far in 2006, the team is ranked 45th nationally against the run and 54th against the pass. The team's best defensive player is CB Aqib Talib. Talib is a hard-hitting DB who shines in making tackles in the open field. Unfortunately for the Jayhawks Talib was suspended for the first two games in 2005. Talib is joined in the secondary by SS Jerome Kemp who is a ferocious hitter. Kemp is fourth on the team with 21 tackles. The Jayhawks' leading tackler is sophomore M LB Mike Rivera. Rivera will be key in KU's efforts to stop Nebraska's power running game. Joe Mortensen is another talented linebacker who has 6 tackles for loss in 2006. Along the defensive front the Jayhawks are led by defensive end Paul Como. Como is the team's top pass rusher and leads the team with 3 sacks. Defensive tackle James McClinton is also a future star along KU's front four.
Special Teams:
Kicker Scott Webb is 2-3 on the year after earning honorable mention All-Big 12 in 2005. Considered one of the better punters in the country, Kyle Tucker is struggling in 2006, averaging less than 40 yards per punt. Punt returner Brian Murph is dangerous averaging 21 yards per return, including a 70 yard touchdown.
Random Notes

Series History:
This marks the 113th meeting between the two teams. Nebraska leads the all-time series 87-22-3.
I Can't Believe I Looked It Up Either:
Last season the Jayhawks broke a 36 consecutive game losing streak to the Huskers. Prior to last year, Nebraska had not lost to KU since a 23-13 defeat in Lawrence in 1968. The Huskers bounced back from that loss with a 21-17 victory of the Jayhawks in Lincoln in 1969.
Way Cooler than "Husker – Power":
The "Rock Chalk" chant dates to 1866, when it was adopted by the Kansas University Science Club. At first, the cheer was "Rah, Rah, Jayhawk, KU" repeated three times. Later, an English professor suggested "Rock Chalk," in place of "Rah, Rah" because it rhymed with Jayhawk and because it was symbolic of the limestone, also known as chalk rock, surrounding Mount Oread, the site of the Lawrence Campus. It became the official cheer of the University in 1897.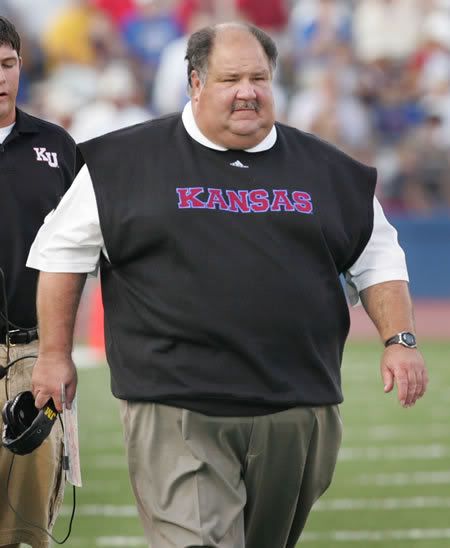 Obligatory "Mark Mangino is Fat" Comment:
Mark Mangino is so fat, his blood type is Ragu. Mangino reportedly weighs upwards of 420 pounds this season. Coincidentally his career winning percentage is .423. The over-under on his cholesterol level is 520.
Six Degrees of Beano Cook:
Beano doesn't have to work real hard on this one. In 2005 Kansas beat Nebraska 40-15.