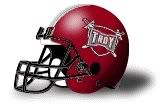 Location:
Troy, Alabama
Enrollment:
27,104
Conference:
Sun Belt
Stadium:
Movie Gallery Memorial Stadium (Capacity: 30,000)
First Year of Football:
1909
All Time Record:
443-335-27
Head Coach: Larry Blakeney
16th year as head coach at Troy: Career record 119-60-1.
· Blakeney was a three-year letterman at quarterback for Auburn from 1966-69.
· He also played shortstop and third base for the Tiger baseball team in 1968 and 1969.
· Before arriving at Troy, Blakeney was an assistant at Auburn. He began his career as the assistant offensive line coach during the 1977 and 1978 seasons. That was followed by stints with the Tigers' tight ends and wide receivers from 1978-80 and then a focus strictly on wide receivers from 1981-90.
· From 1986-90, Blakeney was also the Tigers' offensive play caller. During that time, Auburn posted a 47-10-3 record and won three Southeastern Conference titles.
Team Overview

Last Season:
The Trojans finished 4-7 in 2005 and ranked in the bottom ten nationally in total offense.
This Season:
Troy comes into the game with a 1-2 record. The Trojans began the season by shutting out Alabama State 38-0. In week two they pushed Florida State to the limit before losing 24-17, and last week they fell to Georgia Tech 35-20.
On Offense:
After struggling offensively in 2005, the Trojans hired new offensive coordinator Tony Franklin. Franklin has installed a wide-open, quick-strike, four wide receiver offense. Thus far the offense seems to have improved as Troy ranks 79th nationally in total offense. At quarterback the Trojans count on junior college transfer Omar Haugabook, who seems to have a good grasp of Franklin's scheme. Haugabook is completing 60% of his passes and has thrown for 572 yards with 6 TDs and 6 INTs. The Trojan running attack is led by junior Kenny Cattouse and sophomore Anthony Jones. Cattouse has 99 yards rushing in 2006 and carried the load against GT finishing with 69 yards on 8 carries. A year ago Cattouse had 109 yards in the win over North Texas and 89 yards and two scores against UL Lafayette. Running back/fullback hybrid Anthony Jones also has 117 yards and a touchdown for the Trojans this season. At wide receiver, Troy is led by Gary Banks who has 23 catches for 246 yards and 4 TDs. Banks is a tremendous athlete who spent three years in the Chicago Cubs' minor league system. The Trojans also have other playmakers at the receiving position, including Toris Rutledge, Josh Allen and Smokey Hampton. Although Troy is using a lot of four-wide receiver sets, expect to see several double tight end sets as well, with Josh Pruitt and Josh Henderson. Troy has been looking for improvement along its offensive line after giving up 38 sacks in 2005. This year's unit starts four seniors and sophomore Chris Jamison. Jamison is extremely athletic and has shown great technique since joining the starting line up early in 2005.
On Defense:
In 2005, the Troy defense finished 24th nationally in total defense. In 2006 the Trojan defense is giving up an average of 19.6 points per game. Troy has had to replace its best defensive player after losing talented FS Sherrod Martin for the season with a shoulder injury. The Trojans rely upon their front four to pressure the quarterback and clog the middle of teams' running attacks. Troy is talented at DE with Kenny Mainor and Shawn Todd. Todd is the strongest player on the Troy team and Mainor shows excellent speed in getting up field. The defensive tackles are Steve McClendon and Franklin Lloyd who are both a bit undersized. At linebacker the Trojans are led by Marcus Richardson who should contend for all-conference honors in 2006. He is joined by Josh Maxwell and Ryan Babb. Babb transferred from Alabama and is small (5-11, 198 lbs), but very, very quick. With Sherrod Martin out for the year, SS Brannon Condren has been called on to step up his game. Condren has responded to the challenge so far and finished with 13 tackles including 2 for losses against Georgia Tech. Sophomore Taveres Williams has been starting in Martin's place at FS. The Trojan cornerbacks are Leodis McKelvin and Elbert Mack. Mack has two fumble recoveries this season.
Special Teams:
Greg Whibbs is one of the better kickers in the country. He has connected on 2-3 field goals in 2006. The punter is Jason Wright who is averaging 37.6 yards with a long of 52 yards. Leodis McKelvin looks like a dangerous punt returner who is averaging over 11 yards per return.
Random Notes

Series History:
This will be the fourth meeting between these two teams. Nebraska leads the series 3-0 after victories over Troy in 2001, 2002 and 2003.
I Can't Believe I Looked It Up Either:
Bill Callahan is 5-4 in games when coming off a loss in his Nebraska coaching career.
Wrong Sport but Still Impressive:
On January 12, 1992, Troy beat Devry Institute of Atlanta 258-141, in the highest scoring game in college basketball history.
Six Degrees of Beano Cook:
As if the Florida State outcome wasn't enough to scare you. In 2005, Troy beat Cal Poly SLO. Cal Poly SLO beat South Dakota State. South Dakota State beat UC-Davis. UC-Davis beat Stanford. Stanford beat Arizona. Arizona beat UCLA. UCLA beat Oklahoma. Oklahoma beat…Nebraska.